Main Pages
Design Process
1st Committee
2nd Committee
3rd Committee
Final Design
Description
Explanation
Latin Mottoes
E Pluribus Unum
Annuit Coeptis
Novus Ordo Seclorum
Symbols (front)
Bald Eagle
Shield
Olive Branch
Arrows
Stars
Rays of Light
Cloud
Symbols (back)
Pyramid
Eye
MDCCLXXVI
Great Seals
Official Dies
First Engravings
First Painting
1792 Medal
Indian Medals
1882 Medal
One-Dollar Bill
Themes
Unity
Peace
The Dove
Virgil's Aeneid
Political Drawings 1
Political Drawings 2
Temple of Peace
Diplomatic Medal
Peace Medals
Peace on Moon
Liberty
Thirteen
Sacred to Liberty Justice and Peace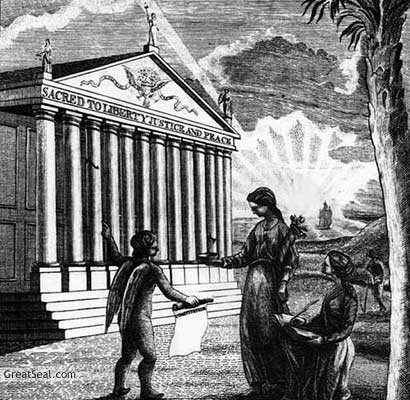 This was a frontispiece of The Columbian Magazine, or Monthly Miscellany published in America in 1788.

Concord, the Goddess of Harmony and Peace, stands before a temple with 13 pillars and the inscription "Sacred to Liberty Justice and Peace." On the pediment is America's Great Seal with "E Pluribus Unum" written on a long ribbon carried in the Eagle's beak.

Atop the temple are three statues:
Liberty with a staff and liberty cap
Justice with scales
Peace with a palm

Clio, the patroness of history, kneels beside Concord to inscribe the message delivered to her by Cupid who holds a copy of the Constitution. A poem describes the scene:

"Behold! a Fabric now to Freedom rear'd,
Approv'd by friends, and ev'n by Foes rever'd,
Where Justice, too, and Peace, by us ador'd,
Shall heal each Wrong, and keep ensheath'd the sword
Approach then, Concord, fair Columbia's Son;
And, faithful Clio write that 'WE ARE ONE'."
See other allegorical drawings of America
published by The Columbian Magazine.