Main Pages
Design Process
1st Committee
Ben Franklin
2nd Committee
3rd Committee
Final Design
Charles Thomson
1782 Description
Explanation
Latin Mottoes
E Pluribus Unum
Annuit Coeptis
Novus... Seclorum
Symbols Front
Bald Eagle
Shield
Olive Branch
Bundle of Arrows
Stars
Rays of Light
Cloud
Symbols Reverse
Pyramid
Eye of Providence
Rays of Light
MDCCLXXVI
Great Seals
Official Dies
First Engravings
First Painting
Diplomatic Medal
Peace Medals
Centennial Medal
One-Dollar Bill
Myths
Eagle Side
Pyramid Side
Masonic?
Themes
Unity
Peace
Liberty
Thirteen
Related
Wild Turkey
President's Seal
U.S. Constitution
Sightings
Resources
Resources for Students and Teachers
In 2003, the U.S. State Department produced an excellent 18-page pamphlet on the history the Great Seal (3 Mb PDF).
In 2007, the United States Diplomacy Center created a comprehensive Exhibition Celebrating the 225th Anniversary of the Great Seal. On their website, you can download any of the exhibit's ten panels and reproduce them for classroom use. (Shown below are Panels 4 and 5.)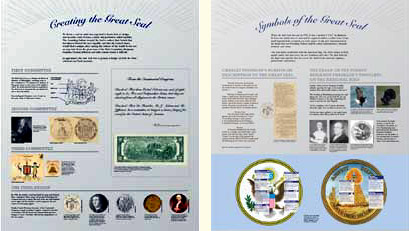 A trifold brochure of the exhibit is also available.

The Great Seal Awareness Project (GreatSeal.net)
can help communities display the Exhibit at local events.
Primary Reference for GreatSeal.com
The Eagle and the Shield:
A History of the Great Seal of the United States
This is by far the best source of accurate information about the Great Seal.
This extremely well-documented book by Richard S. Patterson and Richardson Dougall was published in 1976 by the Office of the Historian, Bureau of Public Affairs, Department of State, under the auspices of the American Revolution Bicentennial Administration. (681 pages, 92 illustrations)
Used copies are available, and a paperback reprint was published in 2005 (by University Press of the Pacific). You could also borrow it with an interlibrary loan.