Main Pages
Design Process
1st Committee
2nd Committee
3rd Committee
Final Design
Description
Explanation
Latin Mottoes
E Pluribus Unum
Annuit Coeptis
Novus Ordo Seclorum
Symbols (front)
Bald Eagle
Shield
Olive Branch
Arrows
Stars
Rays of Light
Cloud
Symbols (back)
Pyramid
Eye
MDCCLXXVI
Great Seals
Official Dies
First Engravings
First Painting
1792 Medal
Indian Medals
1882 Medal
One-Dollar Bill
Themes
Unity
On the Money
United Seal
Peace
Liberty
Thirteen
Related
Wild Turkey
President's Seal
Sightings
Related
Wild Turkey
President's Seal
U.S. Constitution
Sightings
Resources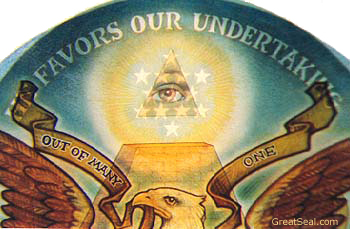 A more perfect union
Unity is a Major Theme
of the Great Seal of the United States
The American bald eagle carries the message, "E Pluribus Unum," which means "Out of Many, One." This Latin motto was originally associated with a hand holding a bouquet of different flowers.

Other symbols of unity on the Great Seal:
Bundle of 13 Arrows
Constellation of 13 Stars
Shield with 13 stripes
During the American Revolution,
emblems on paper money often symbolized unity.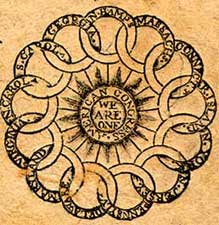 The two-sided Great Seal can become a symbol of unity.
Artwork by Doris Rowe for GreatSeal.com
This United Seal centers around the golden rays of light,
the only symbol on both sides of the Great Seal.
Watch the two sides unite.

Top Image: Great Seal realizations by Terry Lamb (1975)