Second Great Seal Committee – March 1780
The Continental Congress formed a second committee on March 25, 1780 – four years after the first committee made its report. The chairman was James Lovell (Massachusetts). The other two members were John Morin Scott (New York) and William Churchill Houston (New Jersey).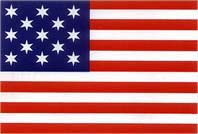 The committee sought the assistance of Francis Hopkinson, the prominent and gifted Philadelphian who signed the Declaration of Independence and designed the American flag Congress adopted in 1777. Experienced in designing seals, Hopkinson did most of the work of this committee which delivered its report to Congress about six weeks later, on May 10, 1780.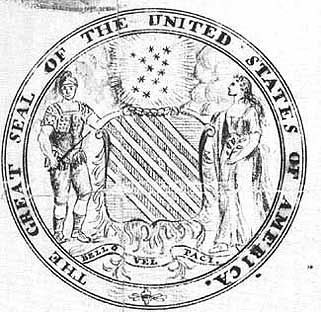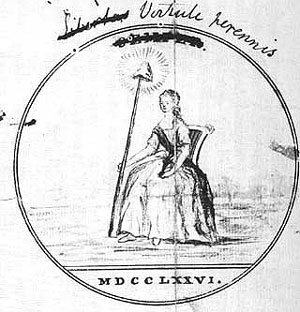 Francis Hopkinson's Sketches of His Designs
for the front and reverse sides of the Great Seal
The shield of thirteen diagonal white and red stripes is supported on its right by a warrior holding a sword and on its left by a figure representing Peace bearing an olive branch. The crest is a radiant constellation of thirteen stars. The motto beneath the shield, "Bello vel Paci," means: For war or for peace.
On the reverse side, Liberty is seated in a chair holding an olive branch and her staff is topped by a Liberty cap. The motto "Virtute perennis" means "Everlasting because of virtue." The date in Roman numerals is 1776.
Congress did not consider the design suitable and did not approve it.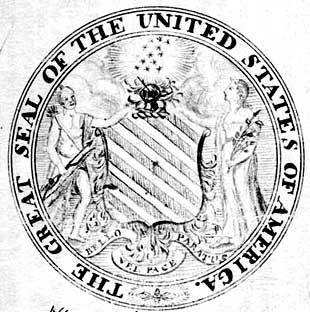 In Hopkinson's preliminary design (above), the figure supporting the shield's right side was an Indian warrior holding a bow & arrow and carrying a quiver of arrows. The motto means "Prepared in War or in Peace."