Peace is a Predominant Founding Principle
The chief designer of the Great Seal, Charles Thomson, said,
"The Olive branch and arrows denote the power of peace & war."



What's more, the American Eagle looks toward the olive branch,
this ancient symbol of peace held in its stronger talon. In other words:

The power of peace is superior to the power of war
(symbolized by the bundle of arrows in the eagle's left talon).
Since ancient times, holding out an an olive branch has signaled peaceful intentions – as in Virgil's Aeneid, the epic story of the founding of Rome.
During the American Revolution, the olive branch was used in political drawings as well as on paper money. The back of Maryland's $16 bill (below) issued in 1775 shows America and Britannia holding an olive branch.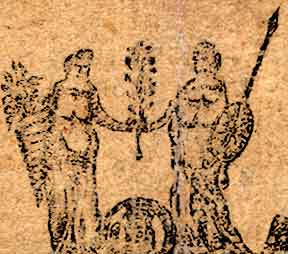 In a final attempt to avoid war with England, the Continental Congress sent what's been called the "Olive Branch Petition" to King George on July 8, 1775. A few months later, he rejected it. And the rest is history.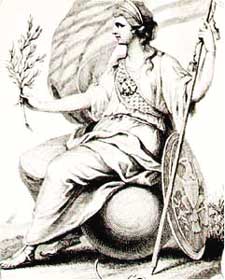 See visions of peace after the Revolution.
Jefferson's 1792 Diplomatic Medal:
"To Peace and Commerce"
Visit the Temple of Peace.
Check out the great seals on George Washington's Indian Peace Medals.
The white dove of peace carries an olive branch.