Main Pages
Design Process
1st Committee
Ben Franklin
Pierre Du Simitiere
2nd Committee
Francis Hopkinson
3rd Committee
Barton's Design
Final Design
Charles Thomson
Thomson's Design
Thomson Bible
Description
Explanation
Latin Mottoes
E Pluribus Unum
Annuit Coeptis
Novus Ordo Seclorum
Symbols (front)
Bald Eagle
Shield
Olive Branch
Arrows
Stars
Rays of Light
Cloud
Symbols (back)
Pyramid
Eye
MDCCLXXVI
Great Seals
Official Dies
First Engravings
First Painting
1792 Medal
Indian Medals
1882 Medal
One-Dollar Bill
Themes
Unity
Peace
Liberty
Thirteen
Pierre Eugène Du Simitière
Artist and Consultant on the First Great Seal Committee
The distinguished committee members – Benjamin Franklin, John Adams, and Thomas Jefferson – had little knowledge of heraldry, therefore they brought in Pierre Du Simitière. A remarkable man with many skills and interests, Du Simitière was quite proficient in the science of heraldry.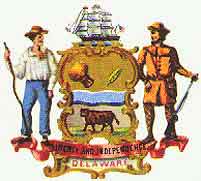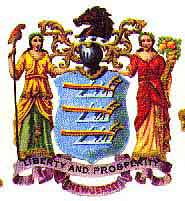 Pierre Du Simitière designed Delaware's seal in 1776.
Two years later, he worked with Francis Hopkinson to create New Jersey's seal.
Born in Geneva, Switzerland, Du Simitière was then 38 years old. He had come to America thirteen years earlier, in 1763, from Jamaica where he lived after leaving Europe at age twenty. In the West Indies he gathered natural history specimens, created charts and tables, and accumulated notes on West Indian life. He earned his living by cutting silhouettes and painting portraits, and there he gained some fluency in English. Du Simitière lived in New York City for nine years as an itinerant collector and researcher. His passion for collecting was insatiable and almost boundless. Upon moving to Philadelphia in 1772:
"His early interest in natural history had expanded to embrace geography, geology, mineralogy, archeology, numismatics, and every aspect of American history, including aboriginal, general, local, political, social, and cultural history. He collected books in English and other languages and was a bibliographer of skill and breadth. He accumulated pamphlets, newspapers, handbills, and every other kind of political publication. He strove to record the history of the Colonies, including their differences with England and their eventual struggle for independence. Perhaps oddly for a collector, he was generous in lending books and other materials from his collections. In 1781 the College of New Jersey (now Princeton) granted him an honorary degree of Master of Arts.
"All the while he continued to practice his profession of artist and painter, from which he earned a precarious living. He drew designs for a variety of state, local, and institutional seals. He drew maps, frontispieces, and technical illustrations for publications. He did pencil, chalk, and water-color portraits for a fee — though he seems not to have worked in oil. He seized every opportunity to sketch from life the notables, both American and British, who came to Philadelphia; and more often than not his sketches went into his own collection.
"His great personal vision embraced the founding of an American museum and the compiling of a history of the Colonies. In his efforts to achieve his objectives, he fought a constant battle with poverty and with the lack of interest of persons who might have helped him gather materials. In a measure he realized his vision briefly in his 'American Museum,' located in a house in Arch Street above 4th, which he advertised as early as September 1782. But the history was never written; he died destitute, and his collections were sold to pay his debts. He is now regarded as the founder of the first history museum in the United States."
– The Eagle and the Shield
Richard S. Patterson & Richardson Dougall, 1976
In a letter to his wife on August 14, 1776, John Adams wrote:
This Mr. du Simitière is a very curious Man. He has begun a Collection of Materials for an History of this Revolution. He begins with the first Advices of the Tea Ships. He cuts out of the Newspapers, every Scrap of Intelligence, and every Piece of Speculation, and pastes it upon clean Paper, arranging them under the Head of the State to which they belong and intends to bind them up in Volumes. He has a List of every Speculation and Pamphlet concerning Independence, and another of those concerning Forms of Government."